CNTR-DIMM-(4IN1)
DALI CONVERTER + PUSH DIMMER + AC TRIAC + 0-10 VOLT - CONSTANT VOLTAGE OUTPUTS PWM 12-24-36VDC - 1 X 20A
DESCRIPTION:
The CNTR-DIMM-4IN1 converter is a multifunction decoder with constant voltage output PWM 12-24-36 VDC. The regulation can be controlled by 4 modes: from the DALI protocol of 1 channel; the auxiliary input of the button; by an analogue signal 0 / 1-10 votes; or by alternate voltage with AC Triac of phase cut. The CNTR-DIMM-4IN1 manages and maximizes the performance of the adjustable 1-channel system (1CH) and can control dimmable monochromatic strips LED and spotlights, in addition to any luminaire with PWM control inputs at constant voltage 12-24-36VDC. It is compatible with a wide range of actuators, dimmer controllers with various light control technologies so that in a single electronics most configurations can be solved. Dimerization is equipped with the adjustment function of the dimmer with 256 steps per channel from 0.1 to 100% of the power. High-frequency PWM regulation to avoid the flicker effect when attenuating.

USE:
Turn on, turn off, dim. Integrate into the smart home, LED strips, recessed spotlights, ceiling lights, steps, spotlights and other adjustable monochromatic PWM lighting fixtures in 12-24-36 volt low voltage according to the chosen power supply. Unlike adjustable power supplies with Dali integrated control electronics (push switches, 0 / 1-10 volts or AC Triac of phase cut), with these electronics it is possible to manage the attenuation with the main technologies of dimmer adjust and choose any standard power supply in constant voltage from 12 to 36 VDC and powers from 0 to 720 watts without the need to find a suitable power supply for each project or realization.

TECHNICAL SPECIFICATIONS:

Code: CNTR-DIMM-(4IN1)
Type: Dali dimmer converter + 0 / 1-10-volt + AC push switch + AC Triac phase cut to 1 PWM output at constant voltage 12-24-36VDC
Dimensions:

170mm x 59mm x H 29mm


Technology: dimmer (1CH)
Dali channels:

 1


Control areas: 1 zone
Voltage: 12-24-36VDC
Power: 240 watt @12VDC - 480 watt @24VDC - 720 watt @36VDC
PWM outputs: 2 x 10A (dimm) - 1 x 20A (dimm)
Signal type: Dali digital protocol IEC 62386-102 IEC 62386-207 + analog 0-1 / 10 volt + AC Triac phase cut
Signal range:

 300 meters (DALI)


Fine adjustment of brightness:

 

1 channel (dimm) with 256 levels / channel setting
Dimmer:

 

1 channel (dimm) with 256 levels / channel setting
Multiple compatibility:

 compatible DALI protocol, AC push switch, 0-1 / 10 volts, AC triac phase cut


Product finish:

 ABS


Protection:

 IP20


Warranty:

 2 warranty


Certification:

 

CE - RoHS - FCC - UL - TUV - NOM
Other information:
Dimmer (256 total levels).

DALI multifunction dimmer, AC push switch, AC triac cut phase, 0-1 / 10 volts.

In AC triac phase cut mode, it supports Leading Edge and Trailing Edge dimming input.

Fast and precise chromatic adjustment according to the configuration.

Optimization of energy consumption thanks to it high precision dimmer.


Notes:
 For Dali dimming, installation and configuration of the product are exclusive to qualified technical personnel.

DIMENSIONS: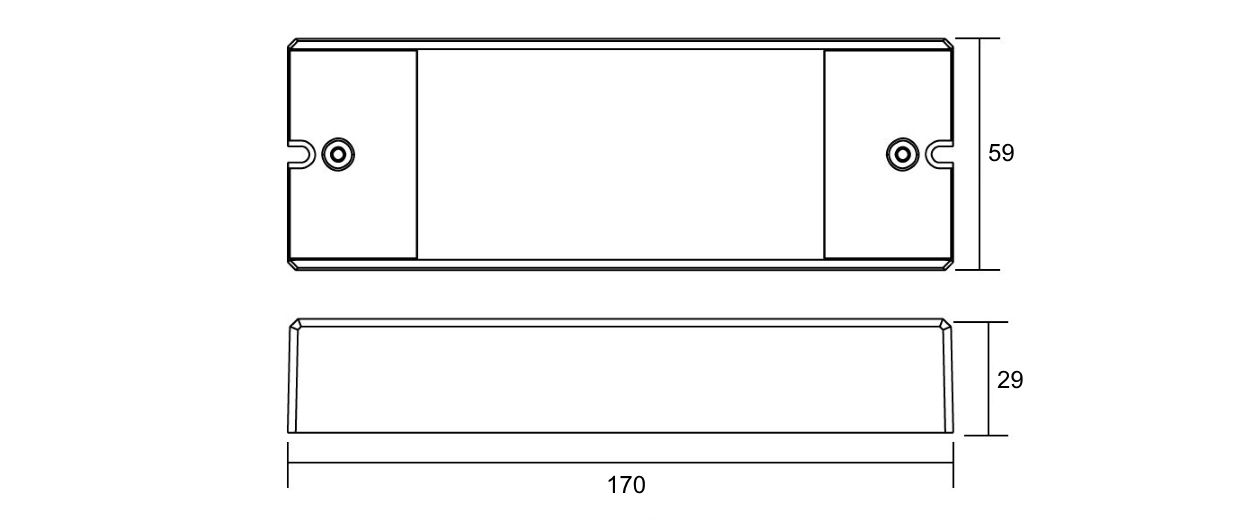 CONNECTIONS:
Notes:
Before connections, select the regulator configuration mode through the Dip switch.

It is possible to select and activate only one type of attenuation at a time.

In the case of the selection of dimmer with the Dali protocol, the Dali address is automatically assigned by the master DALI controller (see more at the technical manual of the master DALI).

EXAMPLE OF CONNECTION SYSTEM WITH MONOCHROMATIC STRIPS LED 2X10 AMP WITH AC TRIAC PHASE CUT CONTROL TO PWM CONSTANT VOLTAGE: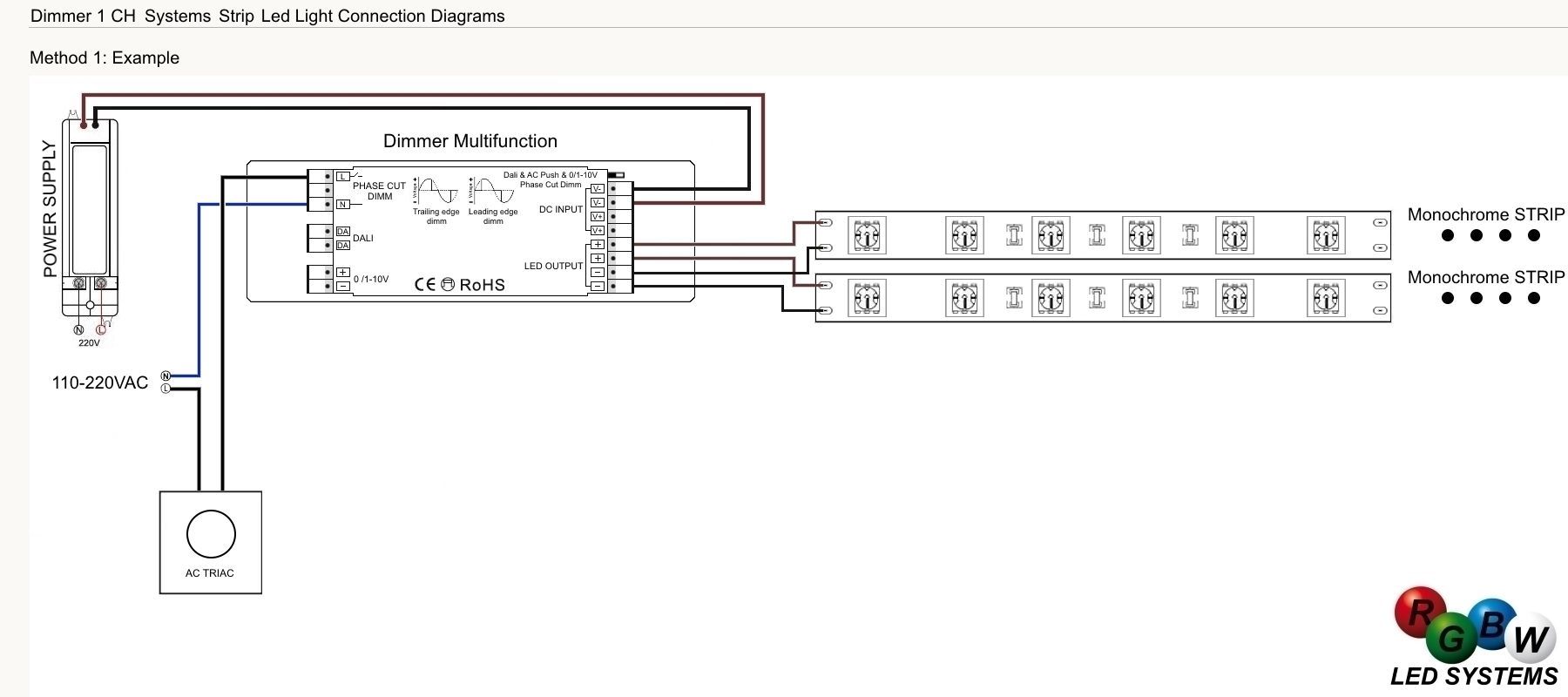 EXAMPLE OF CONNECTION SYSTEM WITH MONOCHROMATIC LED LAMPS WITH AC TRIAC PHASE CUT CONTROL TO PWM CONSTANT VOLTAGE:

EXAMPLE OF CONNECTION SYSTEM WITH MONOCHROMATIC STRIPS LED 2X10 AMP WITH 0-1/10 VOLT CONTROL TO PWM CONSTANT VOLTAGE:



EXAMPLE OF CONNECTION SYSTEM WITH LED LAMPS WITH 0-1/10 VOLT CONTROL TO PWM CONSTANT VOLTAGE: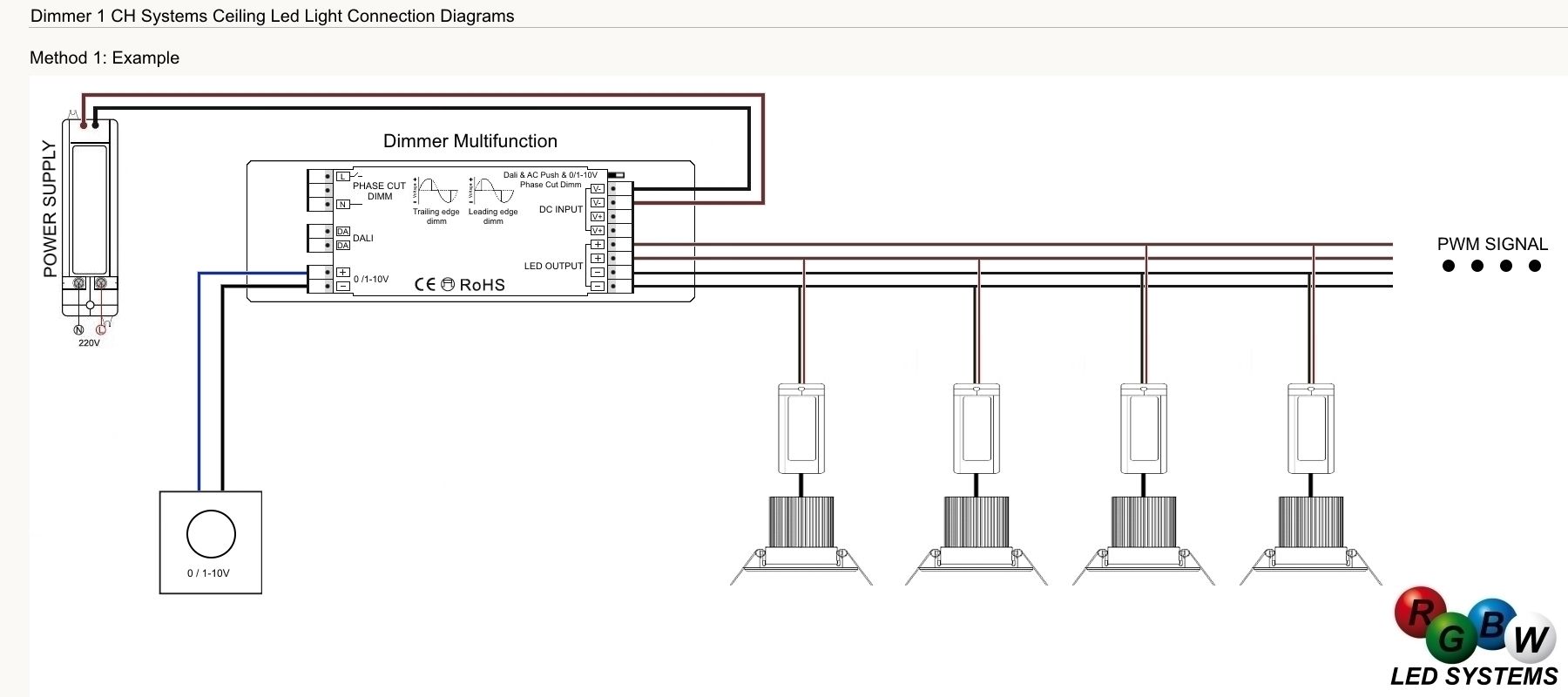 EXAMPLE OF CONNECTION SYSTEM WITH MONOCHROMATIC STRIP LED 2X10 AMP WITH AC PUSH SWITCH CONTROL TO PWM CONSTANT VOLTAGE: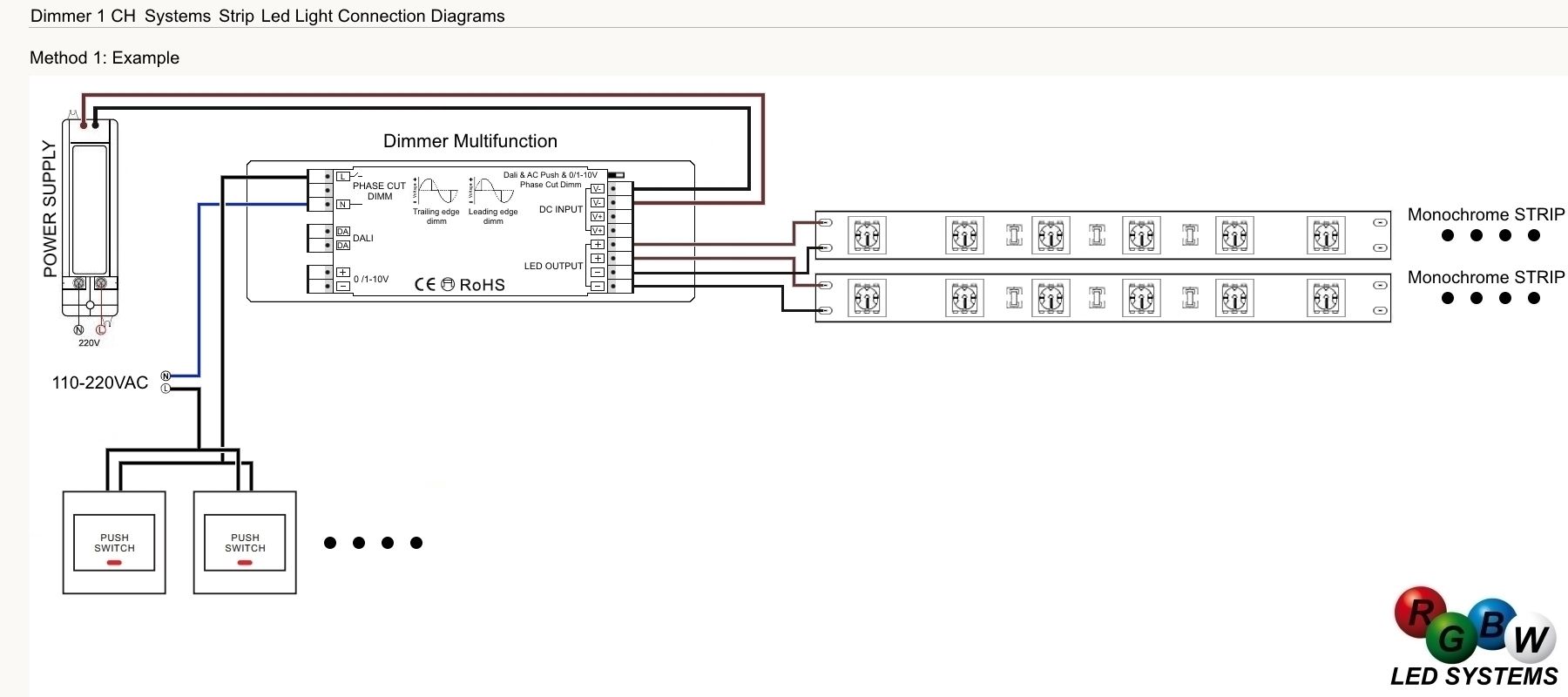 EXAMPLE OF CONNECTION SYSTEM WITH LED LAMPS WITH AC PUSH SWITCH CONTROL TO PWM CONSTANT VOLTAGE:

EXAMPLE OF CONNECTION SYSTEM WITH MONOCHROMATIC STRIP LED 2X10 AMP WITH DALI CONTROL TO PWM CONSTANT VOLTAGE:

EXAMPLE OF CONNECTION SYSTEM WITH LED LAMPS WITH DALI CONTROL TO PWM CONSTANT VOLTAGE: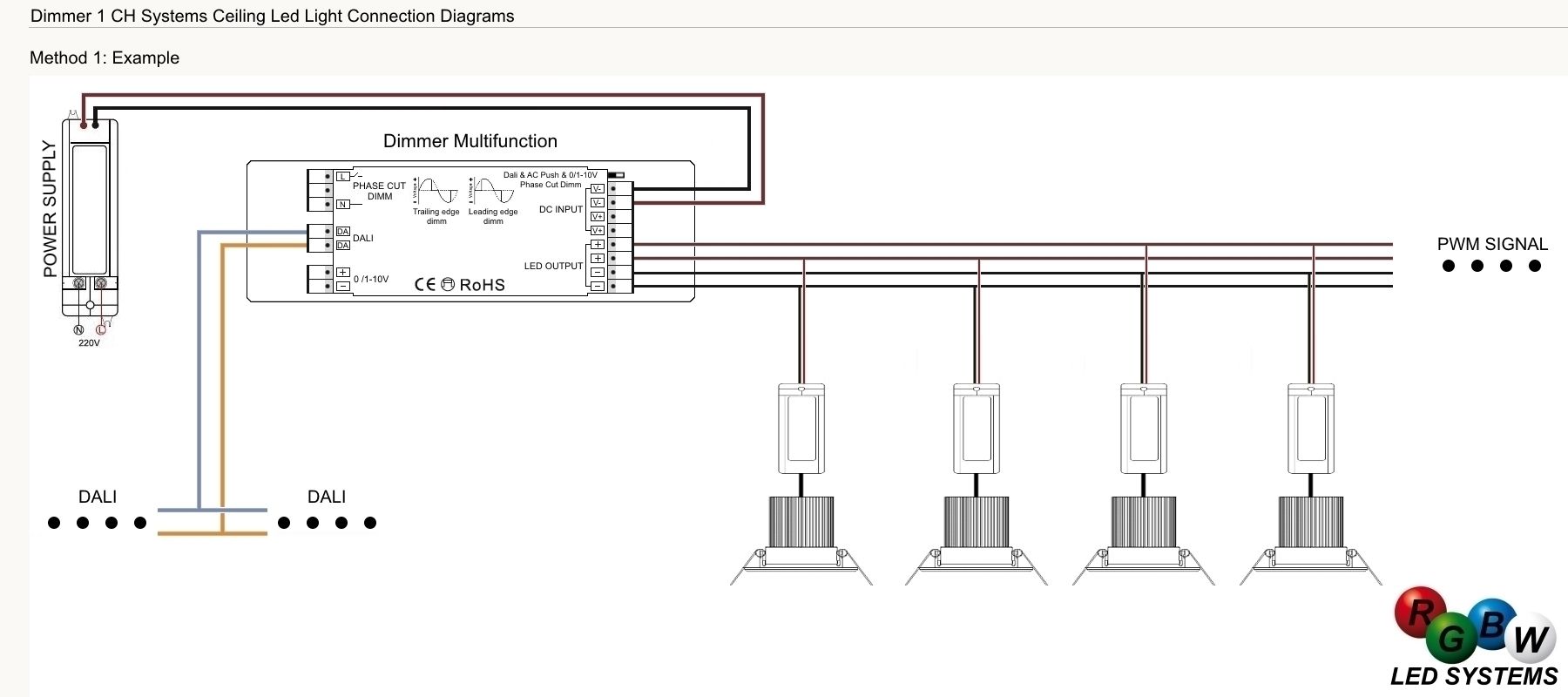 TECHNICAL MANUAL:
Availability:

27 In Stock

Model:

CNTR-DIMM-(4IN1)