W.ELEGANCE DIMM Z2 (DMX) US
CONTROLLER TOUCH PANEL A MURO 503 DIMMER 2 ZONE USCITE DMX
DESCRIZIONE:
Il touch panel W.Elegance DIMM Z2 (DMX) è un controller Master a 2 zone (2 aree) per scatole ad incasso 503, con protocollo di comando DMX512 e massimizza le prestazioni del tuo sistema dimmer (1CH) ottimizzando i consumi energetici ed aumentandone la durata. Elevata precisione nella dimmerazione in 256 livelli di regolazione da 0,1 a 100% della potenza. Dimmerazione PWM ad alta frequenza per evitare l'effetto flickering durante l'abbassamento della luminosità. Retroilluminazione con sensore crepuscolare "find in the dark".


UTILIZZO:
E' possibile comandare strisce a led, faretti ad incasso, segna-passi, wall washer e proiettori dimmerabili. Ogni zona viene controllata dal W.Elegance DIMM Z2 e gestita da ricevitori DMX.
Multi-compatibilità con possibilità di essere abbinato a ricevitori DMX con uscite a tensione costante, corrente costante, controllo Wi-fi con 4 applicazioni diverse per smartphone compatibili IOs ed Android
.
 Grazie al comando via cavo DMX si ha una maggiore stabilità e portata del segnale rispetto sistemi wireless. Indicato per il comando di medie aree e grandi aree, come ville, hotel, centri benessere, uffici, negozi, locali, pub, discoteche e giardini, con distanze massime tra le varie elettroniche di 100 metri (maggiori distanze possono essere controllate attraverso ripetitori di segnale DMX), oppure in ambienti dove non è possibile l'utilizzo di controller RF per causa di elevate interferenze elettromagnetiche esterne.
SPECIFICHE TECNICHE:

Codice: W.Elegance DIMM Z2 (DMX)
Tipologia: touch panel DMX professionale dimmer a 2 zone.
Dimensioni: 75

mm x 120mm x H 29,2mm (standard 503)


Tecnologia:

On, Off + Dimmer 1CH


Zone comando: 2 zone
Scene cromatiche: no
Alimentazione: 12-24VDC
Uscite: DMX512 - DMX512-A (compatibile con i ricevitori standard DMX512, vedi prodotti correlati)
Tipologia segnale: via cavo
Portata segnale: 100 metri
Finitura prodotto: plexiglas lucido con trattamento antigraffio. Sfondo nero.
Funzione bianco dinamico: no
Regolazione veloce luminosità:

 si, a sfioramento touch


Regolazione fine luminosità:

 regolazione di 256 livelli/canale


Dimmer: si, generale e impostabile su ogni zona dal 0,1 al 100%
Multi-compatibilità: può funzionare in sincro con una vasta gamma di ricevitori DMX.
Certificazione: CE - RoHS - FCC - UL - TUV 
Varie:
Accensione, spegnimento e 256 livelli di regolazione dimmer indipendente per ogni zona.

Ottimizzazione dei consumi energetici grazie alla dimmerazione ad alta precisione.

Funzione di memorizzazione ultimo stato della scena cromatica.

Accensione e spegnimento soft.

Retroilluminazione colore bianco con funzione "find in the dark".

Completo di supporto per il fissaggio nella scatola a muro 503.

Disponibile nei formatti 502 e 503.

Note: Utilizzare un ricevitore dedicato DMX (es: codice CNTR-RGBW-DMX) per ogni zona da controllare. Possibilità di abbinamenti multipli.
ESEMPIO SISTEMA DI COLLEGAMENTO: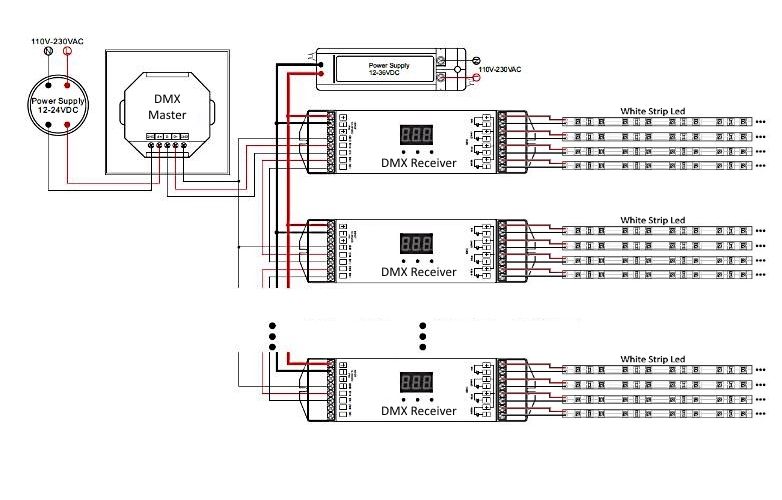 Availability:

Pre-Order

Model:

W.ELEGANCE DIMM Z2 (DMX) US